SOIL DATA WITHIN THE GIS SOL: A legal perspective
TOMAR EN CUENTA EL ESTATUTO JURÍDICO DE LOS DATOS EN LOS PROGRAMAS DEL GIS SOL
Prendre en compte le statut juridique des données dans les programmes du GIS Sol
Taking into account the legal status of data in GIS Sol programs involves identifying different legal regimes. Most of the GIS Sol programs (IGCS, RMQS and BDAT) have shown similarities that facilitate the legal analysis of the status of their data, which are often issued from material soil samples. A step-by-step approach, following the « data lifecycle » (collection, processing, methods of dissemination), can also be useful, as it makes it possible to pair the legal points of vigilance with each stage of the data lifecycle, via the data management plan (DMP). National and European initiatives are currently implemented with an aim to guide the various "soil data" stakeholders, producers and users, from economic and public sectors, in their understanding of the legal issues related to the collection and sharing of these data. A legal working group has been created within the GIS Sol in order to propose practical solutions adapted to the needs of producers and users, throughout the current regulatory evolution. The group will also extend its work to the specificities of other GIS Sol programs: BDSolU and BDETM.
Tomar en cuenta el estatuto jurídico de los datos en los programas del GIS Sol implica identificar regímenes jurídicos diferentes. La mayoría de los programas del GIS Sol (IGCS, RMQS y BDAT) presentan similitudes que facilitan el análisis jurídico de la situación de estos datos, a menudo derivados de la toma de un elemento material y concreto, la muestra de suelo. Un enfoque paso a paso, según el ciclo de vida del dato (recogida, análisis y tratamiento, modalidades de difusión), puede también ser útil, en el sentido de que permite relacionar los puntos de vigilancia jurídica con las etapas del ciclo de vida del dato, mediante una herramienta como el plan de gestión de datos (PGD). Se están desarrollando iniciativas nacionales o europeas para guiar a los diferentes actores de los «datos de suelo», productores y usuarios, de los sectores privado y público, en su comprensión de los retos jurídicos vinculados a la recogida y al intercambio de estos datos. A escala del GIS Sol, se creó un grupo de trabajo jurídico para proponer soluciones prácticas adaptadas a las necesidades de los productores y los usuarios, teniendo en cuenta los profundos cambios reglamentarios en curso. El grupo ampliará sus trabajos para estudiar las especificidades de otros programas del GIS Sol: BDSolU (base de datos de análisis de suelos urbanos) y BDETM (base de datos de análisis de elementos traza metálicos).
Prendre en compte le statut juridique des données dans les programmes du GIS Sol implique d'identifier des régimes juridiques différents. La plupart des programmes du GIS Sol (IGCS, RMQS et BDAT) présentent des similitudes qui facilitent l'analyse juridique du statut de ces données, souvent issues du prélèvement d'un élément matériel et concret, l'échantillon de sol. Une approche pas à pas, suivant le cycle de vie de la donnée (collecte, analyse et traitement, modalités de diffusion), peut également être utile, dans le sens où elle permet d'appairer les points de vigilance juridiques avec les étapes du cycle de vie de la donnée, grâce à un outil tel que le plan de gestion des données (PGD). Des initiatives nationales ou européennes se développent pour guider les différents acteurs des « données sol », producteurs et utilisateurs, des secteurs privé et public, dans leur compréhension des enjeux juridiques liés à la collecte et au partage de ces données. À l'échelle du GIS Sol, un groupe de travail juridique a été créé afin de proposer des solutions pratiques adaptées aux besoins des producteurs et des utilisateurs, en tenant compte des profondes mutations réglementaires en cours. Le groupe étendra ses travaux à l'étude des spécificités d'autres programmes du GIS Sol : BDSolU (base de données des analyses de sols urbains) et BDETM (base de données d'analyses des éléments traces métalliques).
Fichier principal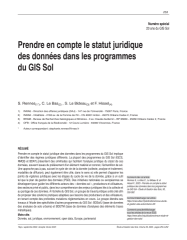 EGS_2023_30_Rennes_253-262.pdf (551.15 Ko)
Télécharger le fichier
Origin : Publisher files allowed on an open archive