Strategies for the Identification and Assessment of Bacterial Strains with Specific Probiotic Traits
Early in the 1900s, it was proposed that health could be improved and senility delayed by manipulating gut microbiota with the host-friendly bacteria found in yogurt. Later, in 1990, the medical community reconsidered this idea and today probiotics represent a developed area of research with a billion-dollar global industry. As a result, in recent decades, increased attention has been paid to the isolation and characterization of novel probiotic bacteria from fermented foods and dairy products. Most of the identified probiotic strains belong to the lactic acid bacteria group and the genus Bifidobacterium. However, current molecular-based knowledge has allowed the identification and culture of obligatory anaerobic commensal bacteria from the human gut, such as Akkermansia spp. and Faecalibacterium spp., among other human symbionts. We are aware that the identification of new strains of these species does not guarantee their probiotic effects and that each effect must be proved through in vitro and in vivo preclinical studies before clinical trials (before even considering it as a probiotic strain). In most cases, the identification and characterization of new probiotic strain candidates may lack the appropriate set of in vitro experiments allowing the next assessment steps. Here, we address some innovative strategies reported in the literature as alternatives to classical characterization: (i) identification of alternatives using whole-metagenome shotgun sequencing, metabolomics, and multi-omics analysis; and (ii) probiotic characterization based on molecular effectors and/or traits to target specific diseases (i.e., inflammatory bowel diseases, colorectal cancer, allergies, among others).
Keywords
probiotics
strain-identification
isolation approach
in vitro screening
Torres-Maravilla, E. Reyes-Pavón, D. Benítez-Cabello, A. González-Vázquez, R. Ramírez-Chamorro, L.M. Langella, P. Bermúdez-Humarán, L.G. Strategies for the Identification and probiotics strain-identification isolation approach in vitro screening
Torres-Maravilla, E.
Reyes-Pavón, D.
Benítez-Cabello, A.
González-Vázquez, R.
Ramírez-Chamorro, L.M.
Langella, P.
Bermúdez-Humarán, L.G. Strategies for the Identification and probiotics
Fichier principal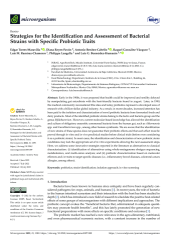 2022_Torre_Microorg.pdf (1.3 Mo)
Télécharger le fichier
2022_Torre_Microorg (1).pdf (1.3 Mo)
Télécharger le fichier
Origin : Publisher files allowed on an open archive
Licence : CC BY - Attribution