Ecodesign of a process for dimethyl carbonate: Influence of the degree of modelling of the methanolysis of urea
The environmental performance of emerging bio-based technologies must be assessed at an early stage of their development, when the process can still be modified for sustainable optimization, i.e. including environmental, social and economic aspects. The Life Cycle Analysis (LCA) methodology is already recognized as an effective solution for environmental analysis. However, the data obtained at the laboratory scale are incomplete in the initial stage of the eco-design of a new synthesis route, which complicates the inventory of the life cycle. Coupling a process modelling/simulation tool with LCA has proven to be an effective solution for providing inventory data. The simulation of a process is based on the selection of models allowing the environmental, energy and economic optimization of a technology to be developed on the production scale. The choice of models for the reaction and separation steps will certainly have a significant impact on the results of the environmental assessment. This article is dedicated to the study of the impact of the degree of complexity of the modelling of the reaction pathway on the environmental assessment of the process of methanolysis of urea to produce dimethyl carbonate (DMC).
La performance environnementale des technologies émergentes biosourcées doit être évaluée à un stade précoce de leur développement, lorsque le processus peut encore être modifié pour une optimisation durable, c'est-à-dire comprenant les volets environnemental, social et économique. La méthodologie d'analyse de cycle de vie (ACV) est déjà reconnue comme une solution efficace pour l'analyse environnementale. Cependant, les données obtenues à l'échelle laboratoire sont incomplètes dans l'étape initiale de l'écoconception d'une nouvelle voie de synthèse, ce qui complexifie l'inventaire du cycle de vie. Le couplage d'un outil de modélisation/simulation des procédés avec l'ACV a démontré être une solution efficace pour fournir les données d'inventaire. La simulation d'un procédé repose sur la sélection de modèles permettant l'optimisation environnementale, énergétique et économique d'une technologie à développer à l'échelle de production. Le choix des modèles pour les étapes de réactions et séparations aura certainement un impact significatif sur les résultats de l'évaluation environnementale. Cet article est dédié à l'étude de l'impact du degré de complexité de la modélisation de la voie réactionnelle sur l'évaluation environnementale du procédé de la méthanolyse de l'urée pour produire le carbonate de diméthyle (DMC).
Fichier principal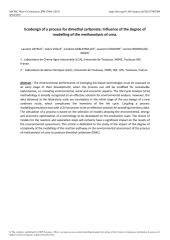 matecconf_sfgp23_07009.pdf (1.54 Mo)
Télécharger le fichier
Origin : Publisher files allowed on an open archive
Licence : CC BY - Attribution