Phytoplankton communities in French large rivers : A comparative study of the ability of different metrics to highlight anthropogenic pressures
Les communautés phytoplanctoniques dans les grands cours d'eau de France métropolitaine : quelle est la capacité de différentes métriques à identifier diverses pressions anthropiques ?
Le phytoplancton est un maillon biologique pertinent pour l'évaluation de l'état écologique des milieux aquatiques, en particulier lorsque leur développement peut être important, comme par exemple dans les milieux lentiques et dans les grands cours d'eau. Un nouveau protocole du suivi du phytoplancton a justement été mis en œuvre dans les grands cours d'eau français depuis 2010. Ces données ont été bancarisées au sein d'un jeu de données conséquent, incluant les résultats de plus de 10 000 prélèvements. Sur la base de ce jeu de données, l'objectif de cette présentation est de comparer la capacité de diverses métriques (par ex. richesse et diversité taxonomique et/ou fonctionnelle) et indicateurs biologiques existants pour mettre en évidence les liens entre la structure des communautés phytoplanctoniques et les pressions anthropiques exercées sur les stations suivies. Classiquement il est considéré que les communautés phytoplanctoniques sont un bon indicateur de l'état trophique des cours d'eau, et en particulier des concentrations en phosphore total. Cette étude permettra donc aussi d'apprécier la capacité du phytoplancton à indiquer des pressions autres, qu'elles soient de nature chimique ou liées à l'altération des habitats.
Fichier principal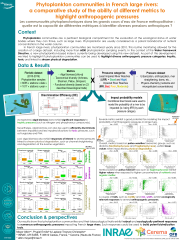 Meyer et al. - Phytoplankton communities in French large rivers .pdf (1.62 Mo)
Télécharger le fichier
Origin : Files produced by the author(s)