Diversité des signes et pluralité des qualités
In France, Spain or Italy, public and private Geographical Indications and environmental certifications are both more numerous and diversified than in Morocco. Their number as well as their opposition raises sharp debates and controversies, more especially in the organic sector and within geographical indications which are often denunciated as tainting these production sectors. A quick economical reasoning suggests that a few number of certifications allow to preserve their "market" and "market shares" and therefore to help the development of the certified products. Indeed, a small number of certifications reduces the competition among the different certifications and provides the consumer with clearer and simpler information. As a consequence shouldn't the Moroccan administration try to avoid the problems encountered in the former European countries and the dilution of the efficiency of the quality signs by keeping attentive not to increase too much the number of available certifications? Yet isn't this reasoning slightly too simple? It rests upon the idea that product qualities as well as customers expectancies are stabilized attributes. But a more detailed scrutiny of the commercial regimes surrounding certifications shows that quality is cannot be definitely predefined d stabilized; certifications do not only share a market; their relationships are much more complex amongst them and with their customers.This communication will ground upon a thoroughly study of quality AOC wine and organic certifications in order to show how any certification calls from the start for a plurality of interpretations of what quality consists in on one hand, and how it works too. Then we will skip to the Moroccan case where the small number of certifications can be seen as a reasonable qualitative differentiation system management, but also, on the contrary, as an elitist system, reserved to a modern, intensive and exporting agriculture. Thus, should we really promote certifications in name of the rural development of depressed areas, which they are supposed to foster?
En France, En Italie, en Espagne, les certifications publiques et privées, que ce soient des certifications de terroir ou agrobiologiques, sont à la fois beaucoup plus nombreuses et plus diversifiées qu'au Maroc. Leur nombre, leur concurrence, leurs oppositions font l'objet de vifs débats et controverses, tout particulièrement dans le domaine de l'agrobiologie et les Appellations d'origine contrôlées viticoles qui empoisonnent ce secteur de production. Un raisonnement économique simple suggère qu'un petit nombre de systèmes de certification permet de réserver leur «marché» et de faciliter le développement de ces produits en limitant la concurrence entre les différentes certifications d'une part, et en proposant au consommateur un système clair et simple de l'autre. Ainsi le Maroc ne doit-il pas chercher à éviter les écueils précédents en restant attentif à ne pas multiplier les certifications et diluer ainsi leur efficacité ? Mais ce raisonnement n'est-il pas trop simple ? Il repose sur l'idée que les qualités sont attributs stabilisés, ainsi que les attentes des consommateurs. Or l'examen plus minutieux des régimes marchands instaurés autour des certifications montre que la qualité n'y est en rien statique, que les certifications ne font pas que se répartir un secteur de marché et entretiennent des relations bien plus complexes entre elles et avec les acheteurs. Cette communication s'appuiera sur une étude approfondie des certifications AOC viticoles et agrobiologiques françaises pour montrer comment toute certification appelle d'emblée une pluralité d'interprétations de la qualité d'une part, du fonctionnement même de la certification de l'autre. Ensuite, nous envisagerons le cas marocain où le petit nombre des certifications peut-être vu comme une gestion raisonnable d'un système de différenciation des qualités, ou aussi à l'inverse, comme un système élitiste réservé à une agriculture moderne, intensive et exportatrice. Dès lors, peut-on réellement défendre les certifications de qualité au nom du développemet rral des zones défavorisées qu'elles sont censées faciliter ?
Fichier principal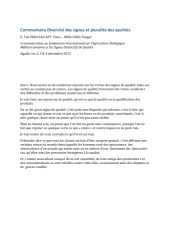 Commentaire AGADIR à imprimer.pdf (288.49 Ko)
Télécharger le fichier
TPTS Agadir 2013.pdf (1.52 Mo)
Télécharger le fichier
Origin : Files produced by the author(s)