Opportunities and risks of double cropping in southwestern France with a focus on soybean and sunflower crops
Growing a second food, fodder or bioenergy crop during the fallow period commonly refers to sequential double cropping or relay cropping practices, as a function of sowing date (following or within the primary crop, respectively). Such practice may generate an additional income while supplying support and regulation services. As such, it could be referred as a form of ecologically intensive agriculture but also an opportunity offered by climate change. The decision-making process in the adoption of double cropping relies on many factors related to soil and climate conditions, but also on profit expectation and risk perception. The CASDAR project "3C2A: Three crops in two years" (2019–2023) strived to create references for sequential double cropping in the South-West of France, which encompasses the regions of Nouvelle-Aquitaine and Occitanie. The project focused mainly on grain crops and raised the interest of the use of oil-protein crops such as soybean ( Glycine max (L.) Merrill) and sunflower ( Helianthus annuus L.) for such practice. As a preliminary contribution of 3C2A project, this paper aims at illustrating the potential interest of soybean and sunflower as double crops in the South-West of France through a qualitative analysis of farmers' perceptions about the risks and opportunities of double-cropping completed by a 4-years on-farm evaluation of agronomic and economic performances of this practice (110 fields).
La pratique d'une deuxième production (alimentation humaine ou animale, bioénergie) pendant la période d'interculture se réfère à ce que l'on nomme la culture dérobée ou la culture en relais selon la date de semis (après ou au sein de la culture primaire). Cette pratique peut générer un revenu supplémentaire tout en fournissant des services de soutien et de régulation. En tant que telle, elle peut être considérée comme une forme d'agriculture écologiquement intensive, mais aussi comme une opportunité offerte par le changement climatique. Le processus de prise de décision concernant l'adoption de la double culture repose sur de nombreux facteurs liés aux conditions pédologiques et climatiques, mais aussi sur l'espérance de gain et la perception du risque. Le projet CASDAR « 3C2A : Trois cultures en deux ans » (2019–2023) s'est efforcé de créer des références utiles pour la double culture dans le Sud-Ouest de la France, englobant les régions Nouvelle-Aquitaine et Occitanie. Le projet s'est principalement concentré sur les cultures à graines et a soulevé l'intérêt d'insérer des oléoprotéagineux tels que le soja ( Glycine max (L). Merrill) et le tournesol ( Helianthus annuus L.). En tant que contribution préliminaire au projet 3C2A, cet article vise à illustrer l'intérêt potentiel du soja et du tournesol en tant que doubles cultures dans le Sud-Ouest de la France par une analyse qualitative des perceptions des agriculteurs sur les risques et les opportunités de cette pratique, complétée par une évaluation sur 4 ans des performances agronomiques et économiques de cette pratique chez les agriculteurs (110 parcelles).
Fichier principal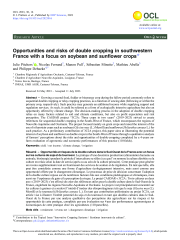 2023-Debaeke-Opportunities_and_risks_of_double_cropping_in_sout.pdf (4.01 Mo)
Télécharger le fichier
Origin : Publisher files allowed on an open archive
Licence : CC BY - Attribution