Reconnecter villes et campagnes : vers des symbioses agricoles et agri-urbaines?
Since the 1970s, new concepts have been beginning to emerge to recreate synergies between town and agriculture, the latest of them promoting the development of a circular economy. This article centres on the transit flows within agri-food systems, considering food items, the upstream flows of farming production associated with agricultural supplies, and downstream flows corresponding to waste management. A joint approach in territorial ecology and territorial agronomy was implemented in an urban agricultural territory of the Île-de-France region, the Saclay plateau, to study agricultural and agri urban symbioses, to clarify the logics underlying flows of materials and to explore the room for manœuvre which might enable the agri-food metabolism to become increasingly internalised. The results show that internal flows and recycling loops come mainly from farms with a diversified typology : mixed-livestock farms, farms using agricultural composts, and organic farming. They also show that the system as a whole is still marked by a linear, externalised operation. Different ways are envisaged to set up more agricultural and agri-urban symbioses, all of them requiring technological, organisational and cultural changes at different levels. The assessment of the sustainability of these local flows must necessarily integrate quantitative aspects, for which we propose here a methodological approach. But it must also include qualitative aspects in order to consider the nature of the materials in circulation and the possible contamination of the recycling loops.
Depuis les années 1970 commencent à émerger de nouvelles conceptions pour re-créer des synergies entre ville et agriculture, la dernière en date promouvant le développement d'une économie circulaire. Cet article porte sur les flux transitant au sein des systèmes agri-alimentaires, en considérant les biens alimentaires, les flux amont de la production agricole liés à l'agro-fourniture, mais aussi les flux avals correspondant à la gestion des déchets. Une démarche couplée en écologie territoriale et en agronomie des territoires a été mise en oeuvre dans un territoire agri-urbain de la région Île-de-France, le plateau de Saclay, pour étudier les symbioses agricoles et agri-urbaines, expliciter les logiques qui sous-tendent les flux de matière et explorer les marges de manoeuvre qui permettraient d'internaliser davantage le métabolisme agri-alimentaire. Les résultats montrent que les flux internes et les boucles de recyclage relèvent majoritairement d'exploitations agricoles de type diversifié : polyculture-élevage, agri-composteur, agriculture biologique, et que le système dans son ensemble reste marqué par un fonctionnement linéaire et externalisé. Différentes voies sont envisagées pour mettre en place davantage de symbioses agricoles et agri-urbaines, nécessitant toutes à différents niveaux des changements technologiques, organisationnels et culturels. L'évaluation de la durabilité de ces flux locaux doit nécessairement intégrer des aspects quantitatifs, dont nous proposons ici une approche méthodologique, mais aussi qualitatifs pour considérer la nature des matières en circulation et l'éventuelle contamination des boucles de recyclage.
Fichier principal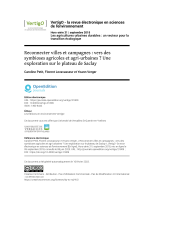 vertigo-21809.pdf (680.15 Ko)
Télécharger le fichier
Origin : Publisher files allowed on an open archive
Licence : CC BY NC ND - Attribution - NonCommercial - NoDerivatives