A Unique Enhancement of Propionibacterium freudenreichii's Ability to Remove Pb(II) from Aqueous Solution by Tween 80 Treatment
Microbial agents have promise for the bioremediation of Pb(II)-polluted environments and wastewater, the biodecontamination of foods, and the alleviation of toxicity in living organisms. The dairy bacterium Propionibacterium freudenreichii is poorly able to remove Pb(II) from aqueous solution at 25 ppm, ranging from 0 to 10% of initial concentration. Here, we report on an original strong enhancement of this activity (ranging from 75% to 93%, p < 0.01) following the addition of a polysorbate detergent (Tween® 80) during or either shortly after the growth of a P. freudenreichii culture. We evaluated the optimal Tween® 80 concentration for pretreatment conditions, documented the role of other detergents, and explored the possible mechanisms involved. Our results reveal a novel, environmentally friendly, low-cost pretreatment procedure for enhancing the selective removal of lead from water by probiotic-documented bacteria.
Les agents microbiens sont prometteurs pour la biorestauration des environnements et des eaux usées pollués par le Pb(II), la biodecontamination des aliments et l'atténuation de la toxicité dans les organismes vivants. La bactérie laitière bioremediation; lead removal; Propionibacterium freudenreichii; polysorbate 80; Tween 80est mal en mesure d'éliminer le Pb(II) de la solution aqueuse à 25 ppm, allant de 0 à 10 % de la concentration initiale. Ici, nous faisons état d'une forte augmentation originale de cette activité (allant de 75 % à 93 %, p < 0,01) après l'ajout d'un détergent polysorbate (Tween® 80) pendant ou peu après la croissance d'une culture de P. freudenreichii. Nous avons évalué la concentration optimale de Tween® 80 pour les conditions de prétraitement, documenté le rôle d'autres détergents et exploré les mécanismes possibles. Nos résultats révèlent une nouvelle procédure de prétraitement écologique et peu coûteuse pour améliorer l'élimination sélective du plomb de l'eau par des bactéries documentées par des probiotiques.
Fichier principal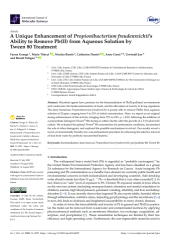 ijms-23-09207-v2.pdf (3.85 Mo)
Télécharger le fichier
Origin : Files produced by the author(s)