Animal labor and moral agency. Training and education of working dogs
Trabajo animal y agencia moral. Adiestramiento y educación de los perros de trabajo
Travail animal et agentivité morale. Dressage et éducation des chiens de travail
Trabalho animal e agência moral. Formação e educação de cães de trabalho
This article discusses the animals' moral agency on the basis of animal work. Based on a comparative ethnography of the training of patrol dogs and the education of guide dogs, in particular the place of the kennel, it sheds light on how animals relate to violence and benevolence through animal work. In police training, the kennel is an instrument of isolation and domination, which confines dogs to aggression in order to make them instruments of public force. It is part of the animals' suffering at work, marked by a pathologization of canine aggression, thus showing that the exercise of violence - biting and hitting - is not self-evident for dogs. Conversely, for guide dogs, the kennel helps to develop the two pillars of education, practical intelligence and attachment, so that the animals learn to take care of blind people and thus become care workers.
El presente artículo propone caracterizar la agencia moral de los animales a partir del trabajo animal. Partiendo de una etnografía comparada del adiestramiento de los perros policia y la educación de los perros para ciegos, en particular el lugar del caníl, el artículo muestra cómo los animales se confrontan con el ejercicio de la violencia y la benevolencia a través del trabajar animal. En el adiestramiento policial, el caníl es un instrumento de aislamiento y dominación, que encierra al animal en la agresividad para hacer de él un instrumento de la fuerza pública. Esto acarrea un sufrimiento de los animales en el trabajo, marcado por una patologización de la relación que estos mantienen con la agresividad, probando así que la violencia no es algo que caiga por su propio peso. A la inversa, por los perros guías,el canil participa en el desarrollo de ambos pilares de la formación, la inteligencia práctica y el vínculo, para que el animal cuide de las personas ciegas y se convierta así en un trabajador del care.
Cet article caractérise l'agentivité morale des animaux à partir du travail animal. A partir d'une ethnographie comparée du dressage des chiens de patrouille et de l'éducation des chiens d'aveugles, notamment de place du chenil, il éclaire le rapport des animaux à la violence et la bienveillance par le travailler animal. Dans le dressage policier, le chenil est un instrument d'isolement et de domination, qui confine les chiens dans l'agressivité pour en faire des instruments de la force publique. Il participe d'une souffrance au travail des animaux, marquée par une pathologisation de l'agressivité canine, montrant ainsi que l'exercice de la violence – mordre et frapper – ne va pas de soi pour les chiens. A l'inverse, pour les chiens guides, le chenil participe du développement des deux piliers de l'éducation, l'intelligence pratique et l'attachement, pour que les animaux apprennent à prendre soin de personnes aveugles et deviennent ainsi des travailleurs du care.
Fichier principal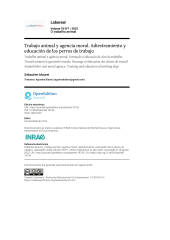 2022_Mouret_Laboreal.pdf (604.08 Ko)
Télécharger le fichier
Origin : Publisher files allowed on an open archive