RENECOFOR - Suivi de la météorologie forestière locale (France et Grand-Duché de Luxembourg)
This new report follows a first report on the forest meteorological sub-network (Ponette et al., 1996) and offers an analysis for the network over a longer 10-year period (1995-2004).This report combines data from the forest meteorological networks in both France and Luxemburg. Plots were set up gradually between December 1994 and January 1997.The French network is made up of 26 automatic weather stations located near the plots in the RENECOFOR Network with one additional plot located near the experimental work station in Fougères. All of the weather stations measure rainfall, temperature and relative air humidity and eight of them also record global solar radiance and wind conditions.The two plots in Luxemburg record all of the above data including global solar radiance and wind conditions.This report focuses on two main aspects. Firstly, data quality is analysed and secondly, the results obtained from the meteorological data are presented.Data quality is assured by a "Quality Control/Quality Assurance" programme. "Quality Control" refers to a set of procedures routinely used to guarantee quality; for example, data verification, weather station inspections or instrument and equipment maintenance. "Quality Assurance" can be defined as the methodology and techniques used to analyse and report on the "Quality Control" procedures, which then form a basis for improving future decision-making."Quality Assurance" has been explicitly included in this report for the first time.We draw conclusions on the reliability of the recorded data and also discuss future perspectives.The meteorological results are presented both globally and in greater detail. The global perspective makes it easier to compare different sites while the more detailed presentation clearly shows the micro-climate at each site.Meteorological indicators have thus been established for the whole ten-year period according to the variables recorded at each plot.
Faisant suite à un premier bilan réalisé sur le sous-réseau météorologique forestier (Ponette et al., 1996), ce nouveau rapport permet l'analyse du réseau après une longue période de fonctionnement de dix années (1995-2004).Ce rapport intègre le réseau météorologique forestier français ainsi que celui du Grand Duché de Luxembourg. Les placettes ont été mises en place progressivement entre décembre 1994 et janvier 1997.Le réseau français comprend 26 stations automatisées implantées à proximité de placettes du réseau RENECOFOR et 1 placette implantée à proximité du site-atelier de Fougères. Toutes les stations enregistrent les variables pluie, température et humidité relative de l'air et huit d'entre elles réalisent également des mesures de rayonnement global et de vent. Les 2 placettes luxembourgeoises mesurent toutes les variables y compris le rayonnement global et le vent. Ce travail est articulé autour de deux axes forts. Le premier concerne la qualité des données et le second présente les résultats issus des données météorologiques collectées. La qualité des données est assurée par le programme de « Contrôle Qualité /Assurance Qualité ».Sous la dénomination « Contrôle Qualité », un programme de procédures routinières a été mis en œuvre. Des procédures de contrôle des données, la surveillance des stations de mesure ou la maintenance des instruments de mesure sont effectuées. L' « Assurance Qualité » est rapportée pour la première fois dans ce rapport. Elle peut être définie comme l'ensemble des méthodes et techniques d'analyse et de synthèse des procédures de « Contrôle Qualité » utilisables pour élaborer de meilleures décisions. Les conclusions sur la fiabilité des mesures et les perspectives sont discutées. Les résultats météorologiques sont présentés de façon synthétique et de façon détaillée. La première permettant de comparer les stations entre elles et la seconde d'établir le climat d'une station. Des indicateurs météorologiques sont alors établis pour toute la période et selon les variables disponibles de chaque station.
Fichier principal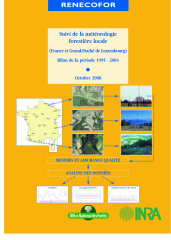 Peiffer_et_al._2008_Météo.pdf (49.79 Mo)
Télécharger le fichier
Origin : Explicit agreement for this submission