Oil content, fatty acid and phytosterol compositions of chia seeds cultivated under organic conditions in France
Chia ( Salvia hispanica L.) is a candidate to be included in European diet due to its seed oil content and composition. Its cultivation in Europe has been assessed in several European countries by introducing genotypes from Latin America. The cultivar Oruro (released by Panam Company, France) was used in this study and cultivated at two locations of southern West of France (Lavaur and Samatan). The aims of this study were to investigate the oil content and composition of chia seeds cultivated in two locations under organic conditions in southern West of France. As expected, location factor affected oil content. Moreover, this factor affected also fatty acid, sterols and tocopherols content and composition. Lavaur presented higher oil content than Samatan. This later location presented higher temperature during grain filling period. Polyunsaturated fatty acids were more represented at Lavaur than at Samatan. Saturated and monounsaturated fatty acids showed the opposite trends. Sterols and tocopherols were more accumulated in chia seeds at Lavaur. These results showed that all quality traits of chia seed cultivated in France were affected by climatic conditions prevailing in location of cultivation.
Le chia ( Salvia hispanica L.) est un candidat pour être inclus dans le régime alimentaire européen en raison de la teneur en huile de ses graines et de sa composition. Sa culture en Europe a été évaluée dans plusieurs pays européens en introduisant des génotypes d'Amérique latine. Le cultivar Oruro (sélectionné par la compagnie Panam, France) a été utilisé dans cette étude et cultivé sur deux sites du sud-ouest de la France (Lavaur et Samatan). Les objectifs de cette étude étaient d'examiner la teneur en huile et la composition des graines de chia cultivées dans deux sites en agriculture biologique dans le sud-ouest de la France. Comme prévu, le facteur site a affecté la teneur en huile. De plus, ce facteur a également altéré la teneur et la composition en acides gras, stérols et tocophérols. Lavaur a présenté une teneur en huile plus élevée que Samatan. Cette dernière localité présentait une température plus élevée pendant la période de remplissage du grain. Les acides gras polyinsaturés étaient plus importants à Lavaur qu'à Samatan. Les acides gras saturés et monoinsaturés ont montré des tendances opposées. Les stérols et les tocophérols étaient plus accumulés dans les graines de chia à Lavaur. Ces résultats ont montré que tous les traits de qualité des graines de chia cultivées en France étaient affectés par les conditions climatiques prévalant dans le lieu de culture.
Fichier principal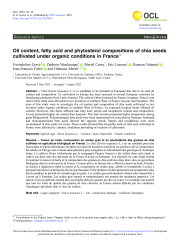 ocl220032.pdf (769.14 Ko)
Télécharger le fichier
Origin : Publisher files allowed on an open archive