Analyse des effets du génotype et d'un déficit hydrique du sol sur la production et la qualité des baies de goji (Lycium)
In the context of the the development of a crop production such as goji berries in France, it is necessary to better understand the biology of this plant (Solanaceae). This study analyses the effects of genotype and soil water deficit on the quality and yield of goji berries. A variety of Lycium barbarum ('FPW07') and of L. ruthenicum ('BLACK'), an hybrid between both of them ('1702/1'), and an hybrid between 'FPW07' and tomato ('1708/3') were available. These four genotypes and one tomato variety ('Levovil') were analysed on growth, phenology, biomass allocation, gas exchange and water relations of plants in response to moderate water stress. In goji, branch growth, stomatal conductance and yield seem to be primarily affected in stressful conditions, unlike the appearance of new leaves, photosynthesis and fruit quality, which showed low variations. In addition, variability in Solanaceae was observed on the maintenance of water status, with a gradient ranging from the most isohydric ('Levovil') to the most anisohydric ('FPW07' and '1708/3'). In addition, the phenotypic analyses question the hybrid nature of '1708/3'.
Dans le contexte de la création d'une filière pour la production et la commercialisation de baies de goji en France, il est nécessaire de mieux connaître la biologie de cette plante (Solanaceae). Cette étude analyse les effets du génotype et d'un déficit hydrique du sol sur la qualité et le rendement des baies de goji. Une variété de Lycium barbarum ('FPW07') et de L. ruthenicum ('BLACK'), un hybride entre les deux ('1702/1'), et un hybride entre 'FPW07' et la tomate, Solanum lycopersicum, ('1708/3') étaient à disposition. Ces quatre génotypes ainsi qu'une variété de tomate ('Levovil') ont été analysés sur la croissance, la phénologie, l'allocation de biomasse, les échanges gazeux et les relations hydrique de la plante en réponse à un stress hydrique modéré. Chez les gojis, la croissance des rameaux, la conductance stomatique et le rendement semblent être impactés prioritairement en condition de stress contrairement à l'apparition de nouvelles feuilles, la photosynthèse et la qualité des fruits qui varient peu. Par ailleurs, il existe de la variabilité chez les Solanaceae sur le maintien du statut hydrique, avec un gradient allant du plus isohydrique ('Levovil') au plus anisohydrique ('FPW07' et '1708/3'). De plus, les analyses phénotypiques mettent en doute le caractère hybride de '1708/3'.
Fichier principal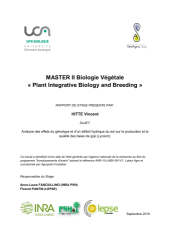 Rapport Vincent HITTE M2 PIBB 2018_GOJINOV_1605-015.pdf (3.28 Mo)
Télécharger le fichier
Origin : Files produced by the author(s)