L'élevage pastoral aujourd'hui en France, un atout pour la transition agroécologique
Pastoral farming is organized around the practice of grazing on areas of spontaneous vegetation. It takes various forms due to the more or less importance of spontaneous vegetation in the diet of the herd. In consequence, it is often qualified as agropastoral. The main common features of pastoral systems were identified and discussed with the the partners of the Mixed Technological Unit "Pastoral farming in Mediterranean territories", known as UMT Pasto, during a working day in January 2020 and are presented here. Characterized by a strong territorial influence, a large diversity of forms and a relative dynamic, compared to other French agricultural sectors, these agropastoral livestock farming systems have undeniable advantages regard to the challenges of agro-ecological transition that French livestock farming must take into account. They also face challenges that require specific support. Thus, this productive activity contributes by the supply of products to the development of the breeders' income, although it is strongly dependent on subsidies. Carried out by people who are passionate about this form of breeding, it requires specific knowledge and skills. This low-artificial breeding, for which adaptability is an intrinsic capacity enhances remarkable spaces.
L'élevage pastoral s'organise autour de la pratique du pâturage sur des surfaces de végétations spontanées. Il revêt des formes diverses du fait de la plus ou moins grande importance de la part de la végétation spontanée dans l'alimentation du troupeau, ce qui le conduit à être qualifié d'agropastoral. Les grands traits communs des élevages pastoraux ont été identifiés et discutés avec les partenaires de l'Unité Mixte Technologique « Élevages pastoraux en territoires méditerranéens », dite UMT Pasto, lors d'une journée de travail en janvier 2020 et sont présentés ici. Caractérisés par une emprise territoriale forte, une grande diversité de formes et une relative dynamique par rapport à d'autres secteurs agricoles français, ces élevages présentent d'indéniables atouts au regard des enjeux de transition agro-écologique que l'élevage français doit prendre en charge, et font face à des défis qui nécessitent un accompagnement spécifique. Ainsi, cette activité productive contribue par la fourniture de produits d'élevage à l'élaboration du revenu des éleveurs. Elle reste fortement dépendante des subventions. Exercée par des personnes passionnées par cette forme d'élevage, elle nécessite des savoir-faire et des compétences spécifiques. Cet élevage peu artificialisé pour lequel l'adaptabilité est une capacité intrinsèque valorise des espaces remarquables.
Fichier principal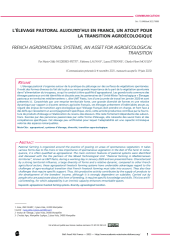 Noziere_elevage_pastoral_transition_bavf_2022.pdf (1.82 Mo)
Télécharger le fichier
Origin : Publisher files allowed on an open archive