PSDR4 ASTRAL - Acteurs et Services écosystémiques des Territoires RurAux Lorrains
In Lorraine, there are major challenges in the development of territorial resources because of the interaction between crops, livestock, forests, wastelands and urbanised areas. ASTRAL examined what are the complementarities to be sought between different land uses in order to produce a diversity of ecosystem services, what are the social perceptions associated with these services, as well as how collective action initiatives and stakeholder networks drive, accompany or hinder territorial dynamics. The methodological approach combined quantitative and cartographic analyses of geographic databases, field observations and experiments, measurements of services in plots, and qualitative surveys and participatory observations. In addition to the work conducted at the regional level, this approach was deployed in three case study territories, where different forms of interaction between local stakeholders and inhabitants took place. ASTRAL has produced new knowledge on territorial organisations and dynamics of land use at the regional and local scales, on mechanisms behind the provision of ecosystem services, and on the social organisations that these services give rise to, which depend closely on the local political and economic contexts. In particular, the results of the project have shown that wastelands, whether agricultural or industrial ones, can be places for scientific, social and cultural experiments in order to encourage the reuse of wastelands by local residents. The project has also highlighted the decisive role of associations which, close to the local population, contribute to social issues that affect the environment, food, and rurality, and to the structuring of new mobilisations in rural areas to promote agroecological transition including a reconnection of agriculture with food.
Des enjeux forts de valorisation des ressources territoriales sont posés en Lorraine qui place en interaction cultures, élevages, forêts, zones de friches et zones urbanisées. ASTRAL s'est interrogé sur les complémentarités à rechercher entre usages des sols pour produire une diversité de services écosystémiques, sur les représentations associées à ces services ainsi que sur les dispositifs d'action collective et les réseaux d'acteurs qui impulsent, accompagnent ou freinent les dynamiques territoriales. La démarche méthodologique a combiné analyses quantitatives et cartographiques de bases de données géographiques, observations de terrain et expérimentations, mesures de services en parcelles, enquêtes qualitatives et situations d'observation participante. Outre des travaux conduits à l'échelle régionale, cette démarche a été déployée dans trois études de cas territoriales, lieux de différentes formes d'interactions avec les acteurs locaux et les habitants. ASTRAL a produit de nouvelles connaissances sur les organisations et dynamiques territoriales des usages des sols aux échelles régionale et territoriale, sur les mécanismes à l'origine de la fourniture de services écosystémiques ainsi que sur les organisations sociales qu'ils suscitent, qui dépendent étroitement des contextes politiques et économiques locaux. Le projet a notamment montré que les friches, qu'elles soient naturelles ou industrielles, peuvent être des lieux d'expérimentations scientifiques, sociales, culturelles afin d'encourager la réappropriation de leurs territoires par les riverains. Il a aussi mis en évidence le rôle déterminant des associations qui, proches des populations, construisent des problématiques sociales qui touchent l'environnement, l'alimentation et la ruralité, et permettent la structuration de mobilisations inédites en milieu rural pour favoriser une transition agroécologique de l'agriculture incluant une reconnexion avec l'alimentation.
Fichier principal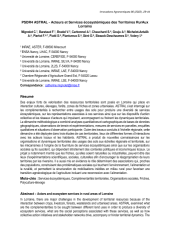 2022_Mignolet_Innovations Agronomiques 86.pdf (829.22 Ko)
Télécharger le fichier
Origin : Publisher files allowed on an open archive