Conception d'indices météorologiques pour prendre en compte le risque de sécheresse estivale dans la garantie de reprise des plantations
Severe droughts which occured in France last years created strong difficulties of survival in forest plantings (Boutte 2021). These events incited the reforestation sector to challenge contractual conditions relative to the survival guarantee. The practicies in use until then could include some exclusion conditions of guarantee for meteorological reasons, including drought. However, they were based on variable drought definitions, sometimes judged as inadaquate. In order to improve the recognition of the non-responsability of reforestation companies with respect to over-mortality of seedlings induced by extreme droughts, we tried to develop a new definition of these events that could be better shared among the sector. We tested 92 meteorological candidate variables calculated by Météo-France at a spatial resolution of 8 x 8 km. The assessment of their relevance was based on the analysis of their ability to predict high mortality rates at the end of the first growing season of the plantations. Prediction models were created using the data from the national annual survey of forest plantings led by the Département santé des forêts (forests health Departement) covering the period from 2007 to 2021, on a selection of 16 forest species, being the most frequently used in reforestation in France. These analysis have been completed using survival rates data collected by forest managers at regional scale. The contribution of this second data set allowed us to evaluate the robustness of the results obtained at the national scale. These analysis showed that abiotic mortality of seedlings depends on the species considered, some being more sensitive than others to drought risks. They also allowed us to identify two meteorological variables that are particularly promising having strong relationships with seedlings mortality rates : the standardised precipitation index (SPI) and the standardised soil wetness index (SSWI) both concerning the three summer months (June, July and August). Using these two indices, alone or combined, seems to us to be a relevant choice for a generic definition of drought regarding plantation survival guarantees. As the contractual definition of severe drougth requires the choice of a rule for the use of the indices together with a triggering threshold for the exclusion of the guarantee, we carried out a sensitivity analysis in order to understand the effect of the value of the triggering threshold for several combinations of summer SPI and SSWI. These results allow us to provide stakeholders with factual evidence on the effects that can be expected on guarantee exclusion frequencies under retrospective5 scenarios applied to the period covered by the data (2007-2021). This should inform a negotiation priorto the adoption of new practices, some operational implications of which we discuss.
Les sécheresses sévères qu'a connue la France ces dernières années ont occasionné des difficultés importantes de reprise des plantations forestières (Boutte 2021). Ces épisodes ont conduit la filière du reboisement à questionner les conditions contractuelles de garantie de reprise. Les pratiques en vigueur jusqu'alors pouvaient prévoir des conditions d'exclusion de la garantie pour des raisons météorologiques, notamment la sécheresse. Toutefois, celles-ci reposaient sur des définitions variables de la sécheresse et parfois jugées inadaptées. Afin d'améliorer la reconnaissance de l'absence de responsabilité des entreprises de reboisement vis-à-vis des surmortalités induites par les sécheresses extrêmes, nous avons cherché à développer une nouvelle définition de ces événements susceptible d'être mieux partagée à l'échelle de la filière. Nous avons testé 92 variables météorologiques candidates calculées par Météo-France à la résolution spatiale de 8 x 8 km. L'évaluation de leur pertinence a reposé sur l'analyse de leur capacité à prédire des taux de mortalité élevés à l'issue de la première saison de végétation des plantations. La modélisation des ces liens statistiques a été réalisée en mobilisant les données du suivi annuel national des plantations du Département de la santé des forêts couvrant la période de 2007 à 2021, sur une sélection de 16 essences forestières, étant les principales utilisées en reboisement en France. Ces analyses ont été complétées par l'utilisation de données régionales de reprise de plantations fournies par des gestionnaires forestiers. L'apport de ce second jeu de données nous a permis d'évaluer la robustesse des résultats obtenus à l'échelle nationale. Ces analyses ont montré que la mortalité abiotique des plants est dépendante de l'essence considérée, certaines étant plus vulnérables que d'autres aux aléas de sécheresse. Elles nous ont aussi permis4 d'identifier deux variables météorologiques particulièrement prometteuses du fait de leurs liens importants avec les mortalités de plants : l'indice standardisé de sécheresse des précipitations (en anglais, standardised precipitation index, SPI) et l'indice standardisé de sécheresse des sols (en anglais standardised soil wetness index, SSWI) tous deux concernant les trois mois d'été (juin, juillet et août). L'utilisation de ces deux indices, seuls ou combinés, nous apparaît être un choix pertinent en vue d'une définition générique de la sécheresse dans le cadre des garanties de reprise de plantations. La définition contractuelle de la sécheresse nécessitant de choisir une règle d'utilisation des indicesaccompagnée d'un seuil de déclenchement de l'exclusion de garantie, nous avons réalisé une analyse de sensibilité afin d'appréhender, pour plusieurs combinaisons des SPI et SSWI d'été, l'effet de la valeur du seuil de déclenchement. Ces résultats nous permettent de fournir aux parties prenantes des éléments factuels sur les effets auxquels on peut s'attendre sur les fréquences d'exclusion de garantie au regard de scénarios rétrospectifs appliqués à la période couverte par les données (2007-2021). Cela devrait éclairer une négociation préalable à l'adoption de nouvelles pratiques dont nous discutons quelques implications opérationnelles.
Fichier principal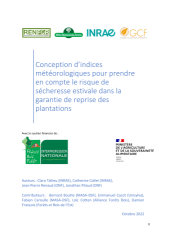 Rapport_REPLANT-CLIC.pdf (7.99 Mo)
Télécharger le fichier
Origin : Files produced by the author(s)