La pluralité des formes organisationnelles au service d'une production saine et rémunératrice : le cas des maraîchers aux Antilles françaises
This article aims to measure the role of collective action in the pursuit of healthy and remunerative production objectives in the French West Indies. We mobilise the theory of collective action to highlight the role of more or less formal networks in achieving these objectives. The theoretical originality of our approach lies in considering the diversity of collective action in Martinique and Guadeloupe according to the degree of formalisation of networks. We use original data collected from about 400 market gardeners in the two territories, which allow us to analyse in greater detail the different forms of collective according to their degree of formalisation. Our results confirm our hypothesis that the degree of formalisation conditions the achievement of the individual objective of the farmers especially when the collective objectives of the organisations coincide with those of the members who make them up. In particular, our results show that farmers' organisations are the organisational forms that best meet the objectives of economic valuation of production and reduction of the use of plant protection products.
Cet article vise à mesurer le rôle de l'action collective dans la poursuite des objectifs de production saine et rémunératrice dans les Antilles françaises. Nous mobilisons la théorie de l'action collective pour souligner le rôle de réseaux plus ou moins formels dans la réalisation de ces objectifs. L'originalité théorique de notre approche réside dans la prise en compte de la diversité de l'action collective en Martinique et en Guadeloupe en fonction du degré de formalisation des réseaux. Nous utilisons des données originales collectées auprès d'environ 400 exploitations maraîchères et vivrières sur les deux territoires, qui nous permettent d'analyser plus finement les différentes formes de collectif en fonction de leur degré de formalisation. Nos résultats confortent notre hypothèse que le degré de formalisation conditionne la réalisation de l'objectif individuel des exploitants et ce, d'autant plus que les objectifs collectifs des organisations coïncident avec ceux des membres qui la composent. Nos résultats montrent notamment que les organisations de producteurs sont les formes organisationnelles qui permettent de répondre au mieux aux objectifs de valorisation économique de la production et de réduction d'utilisation des produits phytosanitaires.
Fichier principal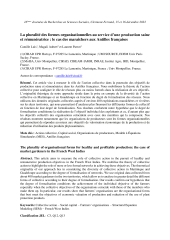 2022_Luis-Aubert-Parrot_Journees Recherches Sciences Sociales_Clermont Ferrand_15-16 dec. 2022.pdf (1009.59 Ko)
Télécharger le fichier
Origin : Files produced by the author(s)