Exploration of the Conditions Required for Replanting a Fragmented and Abandoned Area: the Case of Les Granges Saint-Paul in Menton, France.
Exploration des conditions de remise en culture d'un espace morcelé et délaissé. Le cas des Granges Saint-Paul à Menton (France)
The monograph is concerned with Les Granges Saint-Paul in Menton (Alpes-Maritimes), land which was once worked by peasant farmers from the village of Grimaldi (IT), and possibly grazed by the livestock of farmers from the village of Castellar (FR). This vast area was gradually abandoned and there were a succession of wildfi res. However, in the late 1960s, this land overlooking the sea and sometimes considered to be "vacant plots with no owner", saw the arrival of new actors such as property investors and occupiers with no title deeds. Today, the urban sprawl arising from service provision by the DFCI (Defence of Forests against Fire) threatens this natural site that is the culmination of the Mediterranean Alps. An organized form of enhanced development without transfer of ownership might make it possible to halt the area's degradation, preserve its biodiversity, manage its water resources and replant a unique set of dry-wall terraces. It only remains to check the viability of such an operation and to identify the actors who need to be rallied to the cause.
La monographie porte sur les Granges Saint-Paul à Menton (Alpes-Maritimes), terres anciennement mises en valeur par des paysans du village de Grimaldi (IT), et possiblement pacagées par les troupeaux d'éleveurs du village de Castellar (FR). Ce vaste espace a progressivement été abandonné et les incendies s'y sont succédé. Toutefois, à la fin des années 1960, ces terres surplombant la mer et parfois considérées comme « biens vacants et sans maître » ont suscité l'entrée en scène de nouveaux acteurs, tels que des investisseurs immobiliers et des occupants sans titres. Aujourd'hui, la périurbanisation s'appuyant sur la desserte par des voies DFCI (défense des forêts contre les incendies) menace ce site naturel marquant l'aboutissement des Alpes méditerranéennes. Le recours à une forme organisée de mise en valeur sans transfert de propriété pourrait permettre à la fois d'enrayer la dégradation, de préserver la biodiversité, de gérer la ressource en eau et de remettre en culture un ensemble unique de terrasses en sec. Reste toutefois à vérifier l'opérationnalité d'une telle reconquête et à identifier les acteurs à mobiliser.
Fichier principal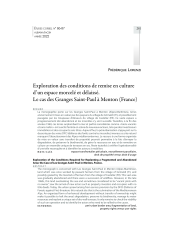 part 11 - Exploration des conditions de remise en culture.pdf (2.04 Mo)
Télécharger le fichier
Origin : Explicit agreement for this submission
Licence : CC BY NC ND - Attribution - NonCommercial - NoDerivatives