Particularités neurobiologiques et physiologiques des différentes techniques d'abattage Abattage avec et sans étourdissement : conscience et induction de l'inconscience (partie 1).
Advances in slaughter practices are based on technical improvements but also on our understanding of the neurobiological principles and the physiological reactions caused by the various stunning techniques and bleeding. This review presents our current scientific knowledge, in particular relating to the brain structures involved in consciousness and the various neurobiological and physiological effects caused by stunning and bleeding. Picture-based illustrations of the brain's anatomy are presented to provide a better understanding of the effects of stunning on certain brain structures. This knowledge presented is used to explain phenomena and issues that can be observed in the field, such as the return of signs of consciousness or the presence of paddling or convulsions, in order to understand better the underlying mechanisms.
Les avancées en matière de pratiques d'abattage reposent à la fois sur des améliorations techniques et sur notre compréhension des principes neurobiologiques et des réactions physiologiques provoqués par les différentes techniques d'étourdissement et par la saignée. Cette revue présente nos connaissances scientifiques actuelles, relatives notamment aux structures cérébrales impliquées dans la conscience, et aux différents effets neurobiologiques et physiologiques que provoquent l'étourdissement et la saignée. Des illustrations par images de l'anatomie du cerveau visent à donner une meilleure compréhension des effets de l'étourdissement sur certaines structures cérébrales. Ces connaissances sont mises en relation avec des phénomènes et des problématiques que l'on peut observer sur le terrain, comme le retour de signes de conscience ou la présence de pédalages ou de convulsions.
Fichier principal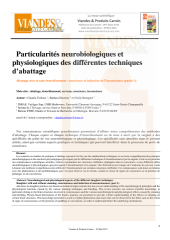 Vol_3725_Abattage-Etourdissement-I.pdf (892.35 Ko)
Télécharger le fichier
Origin : Files produced by the author(s)