Specificities of the evaluation of consciousness and unconsciousness according to slaughter method
Spécificités des indicateurs de conscience et d'inconscience selon les méthodes d'abattage Abattage avec et sans étourdissement : évaluation pratique de l'inconscience (partie 2).
It is essential to assess the state of unconsciousness or consciousness of animals during slaughter. These assessments take place after the application of a stunning technique until the end of bleeding and during direct bleeding without stunning, until the end of bleeding. The indicators used are essentially similar for the different methods. However, the indicators are not all verified at the same times and their interpretation is not the same for all the methods either. This review describes the different brain circuits controlling the indicators of consciousness and unconsciousness, their interpretation and how they can be used for different slaughter methods. It also describes certain physiological reactions as well as specific points of vigilance for the different slaughter methods.
Il est essentiel d'évaluer l'état d'inconscience des animaux pendant l'abattage. Ces évaluations ont lieu après l'application d'une technique d'étourdissement ou après l'égorgement pour les abattages sans étourdissement, et ce jusqu'à la fin de l'égouttage. Les indicateurs utilisés sont essentiellement les mêmes pour les différentes méthodes. Cependant, ils ne doivent pas tous être contrôlés aux mêmes moments et leur interprétation n'est pas non plus identique pour l'ensemble des méthodes utilisées. Cette revue décrit les différents circuits cérébraux qui contrôlent les indicateurs de conscience et de l'inconscience, leur interprétation et la façon dont ils peuvent être utilisés pour les différentes méthodes d'abattage. Elle décrit également certaines réactions physiologiques ainsi que des points de vigilance spécifiques pour les différentes méthodes.
Fichier principal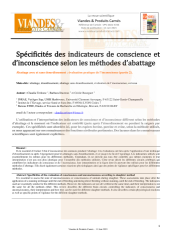 Vol_3726_Abattage-Etourdissement-II.pdf (759.22 Ko)
Télécharger le fichier
Origin : Files produced by the author(s)
Licence : CC BY - Attribution