Dynamiques entre attitudes personnelles et normes sociales perçues dans les comportements de changement. Le cas de la conversion à l'agriculture biologique
The obstacles to farmers' conversion to organic farming were examined from a theoretical standpoint derived from social psychology and sociology. Attitudes and social norms are key social and psychological concepts that have often been considered as independent determinants of human behavior. However, questions about the interplay between the two are somewhat of a blind spot in the social sciences, especially in social psychology. By adopting an interdisciplinary theoretical approach, we suggest that where a major change in norms is involved such as that of conversion to organic farming, behaviors are shaped by a discrepancy between personal attitudes and the perceived group norm, i.e. , perception of the attitudes of other group members. This proposal was tested and supported by qualitative semi-directed enquiries involving sixteen farmers in the French region "Auvergne Rhône-Alpes". The dynamic interaction was shown to play an important role when it comes to explaining individual intentions to change one's mode of farming. These findings, applied to the field of agriculture, are discussed from the standpoint of the influence that a robust and active minority might play in initiating social changes in the farming world.
Le présent travail de recherche a recours à la psychologie sociale et à la socioanthropologie pour analyser les dynamiques entre les attitudes personnelles de producteurs agricoles et leurs perceptions des normes environnantes lors d'un processus de conversion à l'agriculture biologique. Les entretiens semi-directifs auprès d'éleveurs de la région Auvergne-Rhône-Alpes démontrent un poids important de la relation dynamique entre ce que les individus pensent (leurs attitudes personnelles) et ce qu'ils perçoivent être la norme au sein de leur groupe social (norme perçue). Cette situation s'avère être différente en fonction de la pratique agricole des répondants (conventionnelle, en conversion ou biologique). Les résultats sont discutés du point de vue du rôle que joue l'influence minoritaire dans les transformations actuelles du monde agricole.
Fichier principal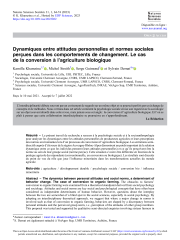 nss230022_KhamzinaStreithGuimond.pdf (314.43 Ko)
Télécharger le fichier
Origin : Publisher files allowed on an open archive
Licence : CC BY - Attribution