Bilan du suivi avant travaux de restauration de la continuité écologique de la Mérantaise au moulin d'Ors
The Water Framework Directive (WFD) was adopted on October 23, 2000 in response to the fragmentation of habitats caused by the use and development of watercourses since the industrial era, and aims to restore the good status of water bodies throughout Europe. On the Mérantaise, a peri-urban watercourse in the Île-de-France region, work to restore ecological continuity has been scheduled to remove the 1.30 meters-high Ors mill weir, identified as the upstream distribution limit for the fario trout (Salmo trutta fario). The aim is to acquire an accurate picture of the state of the river and its associated communities prior to the works, as a point of comparison against which to assess the relevance of the project. For over ten years, a minimum scientific monitoring program (MSM) has been carried out, based on invertebrate sampling, environmental DNA sampling and electric fishing. The indices calculated (IPR, I2M2), compared with environmental data, have confirmed the upstream impassability of the weir for trout. On the other hand, interannual variability in community composition and distribution is attributed to variations in weather conditions and the occurrence of extreme events such as the 2016 flood. Measurements following the work completed by the end of 2022 should soon reveal the response of the communities, with the support of this report.
En réponse à la fragmentation des habitats par les usages et aménagements des cours d'eau depuis l'ère industrielle, la directive cadre sur l'eau (DCE) a été adoptée le 23 octobre 2000 pour viser le retour d'un bon état des masses d'eau à l'échelle de l'Europe. Sur la Mérantaise, cours d'eau péri-urbain d'Île de France, des travaux de restauration de la continuité écologique ont été prévus afin d'effacer le seuil du moulin d'Ors, haut d'1,30m et identifié comme la limite de répartition amont d'une espèce d'intérêt : la truite fario (Salmo trutta fario). L'enjeu est d'acquérir une image fidèle de l'état de la rivière et des communautés associées avant travaux, comme point de comparaison qui permettra d'évaluer la pertinence du projet. Depuis plus de dix ans, un suivi scientifique minimal (SSM) est mené, se basant sur des prélèvements d'invertébrés, d'ADN environnemental ou des captures de poissons par pêche électrique. Les indices calculés (IPR, I2M2), confrontés aux données environnementales, ont confirmé l'infranchissabilité du seuil vers l'amont pour les truites. D'autre part, une variabilité interannuelle de la composition et de la distribution des communautés est imputée aux variations des conditions météorologiques et à l'occurrence d'évènements extrêmes comme la crue de 2016. Les mesures succédant aux travaux achevés en fin 2022 devraient bientôt révéler la réponse des communautés, à la lumière du présent rapport.
Fichier principal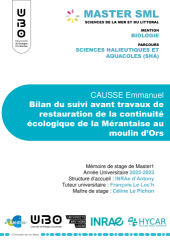 CAUSSE_Emmanuel_Mémoire_de_stage_2023.pdf (3.19 Mo)
Télécharger le fichier
Origin : Files produced by the author(s)