Range use relationship with welfare and performance indicators in four organic broilers strains
Free range allows chickens to express more behaviours such as foraging and locomotion in a different environment from the poultry house. To understand how range use is related to welfare and performances of chickens, we studied four intermediate- to slow-growing strains with the outdoor access until slaughter at 71 to 106 days of age depending on the strain. Males from JA757, S757N, White Bresse and a dual-purpose crossbreed were classified according to their range use and divided in two extreme groups of 25 high- and low-rangers. We did not observe any significant relationship between range use and welfare indicators collected at the slaughterhouse (hock burn, pododermatitis scores and struggling activity on the slaughter line) in the four studied strains. Leg health of JA757 chickens improved significantly with range use, with tibia being 4% shorter and 2% stronger in high-rangers compared to low-rangers. In both JA757 and S757N strains, range use also reduced the immune and inflammatory responses of birds. However, greater range use was negatively related to performances in all strains, including a 12%, 8% and 7% reduction in carcass weight in JA757, S757N and the White Bresse strains, respectively, and a significant 2% reduction in thigh yield in the dual-purpose strain. Overall, greater range use in slow-growing birds did not affect welfare, health and meat quality indicators, but we confirmed a negative relationship with performance. The project PPILOW has received funding from the European Union's Horizon 2020 research and innovation programme under grant agreement N°816172.
Fichier principal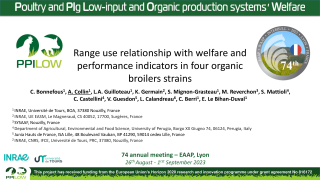 EAAP23_Bonnefous et al-29082023.pdf (2.25 Mo)
Télécharger le fichier
EAAP23_Bonnefous et al-29082023 (1).pdf (2.25 Mo)
Télécharger le fichier
Origin : Files produced by the author(s)
Licence : CC BY NC - Attribution - NonCommercial
Comment : Erreur sur le fichier pdf (une partir des résultats n'était pas visible.