Effect of storage conditions and postharvest treatments on date palm quality
Variation de la qualité des dattes en fonction des conditions de conservation et des traitements post-récolte
انتاج التمور في ارتفاع مستمر من موسم الى اخر مما يجعل مراكزالفرز و التخزين تتخلص من كميات هائلة من التمور المتضررة أثناءعمليات الفرز والتسويق. هذه العمليات تلعب دورا هاما في الحفاظ على جودة التمور. ومن أجل الحفاظ على الجودة الغذائية للتمور بعد الجنيمع تحسين قيمتها التسويقية، تم القيلم بتجارب التخزين وبعض معالجات ما بعد الجني.وقد تم دراسة تأثير ظروف التخزين المختلفة من درجة الحرارة، مدة الخزن وتقنية الجو الهوائي المعدل، وكذلك تأثير معالجة التمور الجافةعلى الصلابة، اللون، السكريات، الأحماض العضوية، البوليفينول وجدران الخلايا النباتية (الالياف) ومكوناتها.تم تخزين تمور ' دقلة النور' لصابة 2017 و 2018 والأصناف الأخرى من التمور الأقل انتشارا مثل ' الارشتي'، ' بو حتم'، ' بسر حلو'18 درجة مائوية وفي 2 درجة مائوية لمدة - ,0 ,2 , التي تستهلك في مرحلة متقدمة من النضج (خلال)، لمدة ثلاثة، ستة وتسعة أشهر في 430 و 60 على التوالي. اثبت التحليل الطيفي بالأشعة تحت الحمراء الوسطى ان سنة الجني لها تاثير على العناصر الكيميلئية للتمور' دقلةالنور' وقامت بتمييز التمور المخزنة في 2 و 4 درجة مائوية بالنسبة لاهم مكوناتها (الماء، السكريات، الأحماض العضوية...). اثبت النتائجان جدران الخلايا النباتية (الالياف) وان أكبر مكونات البوليفينول (بروسيانيدين) كانت مستقرة اثناء تخزين تمور' دقلة النور' و ' الارشتي'،بغض النظر عن درجة حرارة ومدة التخزين. نفس هذه العناصر كانت الأكثر تاثرا بعوامل التخزين بالنسبة لاصناف' بو حتم' و ' بسرحلو'. هذا الصنف الأخير كان الأكثر ليونة مع تغير بنية جدران الخلايا على الرغم من انه أكثر صنف قابلية لدى المستهلك، من الممكنبسبب ارتفاع كمية السكريلت السريعة التي اثرت على مذاقه الحلو.فبحيث ان تخزين التمور ' دقلة النور' في - 18 درجة مائوية من الممكن ان يكون أحسن حل على مدى طويل، لكن نظرا لتكاليفة الطاقيةالباهضة، تخزين التمور في 2 درجة مائوية يجب ان يكون أفضل حل. بصفة عامة لم يكن هناك خسائر هامة للقيمة الغذائية بالنسبة لاصنافالتمور الاخرى اثناء التخزين، مما يجعل التمديد في مدة التخزين ممكنا بالنسبة اصنف' الارشتي' مع البحث عن درجة حرارة تخزين ناجعةالصنف ' بسر حلو' و' بو حتم'.تم ايضا تخزين انواع التمور المذكورة اعلاه بتقنية الجو الهوائي المعدل في 2 درجة مائوية لمدة ثلاثة، ستة وتسعة أشهربالنسبة ' لدقلةالنور' ولمدة 30 و 60 يوم بالنسبة للاصناف الأخرى. بصفة عامة هناك اختلافات في العناصر الفيزيلئية والكيميلئية ' لدقلة النور' المخزنةفي كل أنواع تقنيات الجو الهوائي. ' دقلة النور' المخزنة في أكياس ترندلايف و ايباك. أصبحت داكنة الون.دقلة النور المخزنة في أكياس ' سجلت ارتفاعا في مكونات جدران الخلايل, بروسيانيدين, الفروكتوز و حامض السيتريك. تخزين' دقلة النور'في أكياس زويباك اخرت في ليونتها مع استقرار في البوليفينول. هذه النتائج اثبتت ان تخزين التمور في اكياس الجو الهوائي المعدل لم تكنذو نجاعة عالية مقارنة بعوامل الحرارة والمدة الزمنية.لون وصلابة التمور من اصناف ' الارشتي'، ' بو حتم'، ' بسر حلو' اثبتت استقرارها بعد تخزينها في أكياس زويباك, لكن بعدم ايجاد فرقمقارنة بالتمور المخزنة بدون اكياس الجو الهوائي المعدل, مثلها مثل بقية العناصر الفيزيلئية والكيميلئي بصفة عامة. هذا يثبت ان استعمالهافي مصانع تخزين التمور ليس له جدوى اقتصادية واضحة.تم دراسة مدى تاثر القيمة الغذائية لتمور ' دقلة النور' الجافة على إثر معالجتها وترطيبها بالطريقة الهعتدة في اغلب مصانع تخزين التمور62 درجة مائوية لمدة 4 ساعات - لتكون ذات قيمة تسويقية عالية ولتقليص كمية الخسائر. تقنية ترطيب التمور على طريقة البخار في 60اثبتت نتائج ناجعة كما كان متوقع مع المحافضة على استقرار المكونات الغذائية. طريقة معالجة التمور بترطيبها هي طريقة متصوح بهالكنها غير ناجة للتمور الأكثر جفافا التي تحتاج تطوير في هذه التقنية.
The production of dates is increasing every season, causing losses especially during post-harvest handling andmarketing. Post-harvest handling plays an important role in maintaining date palm. In order to preserve organolepticand nutritional quality of date palm fruits after harvest with improving their commercial value, storage experiments andpost-harvest treatments have been assayed.The effect of different storage conditions of temperature, time and modified atmosphere, as well as the effectof heat treatment of dates, on firmness, colour, sugars, organic acids, polyphenols and cell walls and compositions havebeen studied.'Deglet Nour' date palm fruits of two harvest seasons (2017 and 2018) as well as common date cultivars'Arichti', 'Bouhattam' and 'Bser Hlou' consumed at early maturity stage (Khalal stage), were stored at -18, 0, 2 and 4°C for 3, 6 and 9 months and at 2 °C for 30 and 60 days, respectively. Mid Infrared Spectroscopy (MIR) as a nontargetedmethod allowed to highlight a year effect on 'Deglet Nour' chemical composition and to discriminate samplesstored at 4 and 2 °C regarding to major components (moisture, sugar, organic acids...). Cell wall yields (assimilated tofiber) as well as procyanidins, accounting for 98% of total polyphenols, were stable during 'Deglet Nour' and 'Arichti'cultivars storage regardless of temperature and time conditions. However, these same components were the mostaffected by storage conditions for 'Bouhattam' and 'Bser Hlou' cultivar. This latter, was the softest cultivar and themost appreciated by consumers, may be because of reducing sugars increase affecting its sweet taste. Thus, stored fruitsat -18 °C could be the solution for a long-term storage but due to its high energetic costs, 2 °C must be the optimaltemperature. Moreover, in order to valorize common dates palm and prolong their shelf life, storage time could beprolonged for 'Arichti' cultivar with temperature storage ptimization for 'Bser Hlou' and 'Bouhattam' cultivars.Date palm fruits mentioned above, were also stored under Modified Atmosphere packaging (MAP) at 2°Cduring 3, 6 and 9 months for 'Deglet Nour' and during 30 and 60 days for commons cultivars ('Arichti', 'Bouhattam'and 'Bser Hlou'). In general, differences were observed on physical and chemical parameters using different MAPstreatments for 'Deglet Nour'date palm fruits. Dates became darke with MAPT and MAPA storage. Dates palm storedunder this latter MAP bag showed an increase on procyanidins, some cell walls compositions, fructose and citric acid.Firmness loss of this cultivar was delayed with MAPZ storage with polyphenols stability. This latter bag type conservedfirmness and colour of the three studied cultivars ('Arichti', 'Bouhattam' and 'Bser Hlou') were stabe with no differencecomparing to control (without MAP). Organic acids, cell walls yield and composition, polyphenols were also stableduring storage. Only sugars contents of every cultivars had different behaviour.These results showed that MAP bags had very lower benefical effects than storage time and temperature on 'date palmquality. So, their use in date processing industries could have more costs with no apparent effects.The organoleptic and nutritional quality of 'Deglet Nour' date palm was also evaluated before and afterhydration treatment commonly used in date prcessing units (DPU), in order to become more commercially valued andto minimize waste generated along the date palm fruit supply chain. Hydration treatment under saturated steam at 60-62°C for 4 hours impoved date fruits texture as expected while nutritional parameters were quite stable. Mid InfraredSpectroscopy (MIR) allowed to discriminate samples from the three DPUs suggesting to be adopted in DPU as a newpredictive and no destructive technique. So, hydration treatment could be highly recommended to valorize fruit byproducts.However, it needs to be optimized for the very hard-type dates.
La production de dattes ne cesse d'augmenter d'une saison à une autre ce qui engendre des pertes essentiellement lors des étapes de manutention et de commercialisation. De plus, l'étape de manutention post-récolte joue un rôle important dans le maintien de la qualité des dattes. Dans ce cadre et afin de préserver les qualités organoleptique et nutritionnelle des dattes après récolte tout en améliorant leur valeur commerciale, des essais de conservation et de traitement post-récolte ont été mis en place. L'effet de la conservation des dattes en fonction de la température, du temps, de l'utilisation d'atmosphère modifiée lors du stockage et d'un traitement thermique sur la fermeté, la couleur, et les teneurs en sucres, acides organiques, polyphénols et parois cellulaires a été étudié. Les dattes du cultivar 'Deglet Nour' récoltées en 2017 et 2018 au stade Tamr ainsi que les dattes communes 'Arichti', 'Bouhattam', 'Bser Hlou' consommées à un stade de maturité précoce (stade Khalal) ont été conservées à -18, 0, 2 et 4 °C pendant 3, 6 et 9 mois et à 2 °C pendant 30 et 60 jours, respectivement. La spectroscopie Moyen Infrarouge (MIR) en tant que méthode non destructive et non ciblée a permis de mettre en évidence l'effet de l'année de récolte par rapport à la composition chimique et de discriminer les échantillons de dattes 'Deglet Nour' conservés à 4 et 2 °C. Le rendement en parois cellulaires assimilées aux fibres, ainsi que les procyanidines représentant 98% des polyphénols totaux sont stables durant la conservation du cultivar 'Deglet Nour' et du cultivar 'Arichti' quel que soit la température et la durée de conservation. En revanche, ces composants sont ceux qui sont les plus affectés par les conditions de conservations dans le cas des cultivars 'Bouhattam' et 'Bser Hlou'. Ce dernier est le cultivar le plus ferme et le plus apprécié par les consommateurs, en raison notamment de l'augmentation des teneurs en sucres réducteurs affectant son goût sucré lors de la conservation. De ce fait, une conservation des dattes 'Deglet Nour' à -18 °C pourrait être une solution pour un stockage à long terme, par contre en raison des coûts énergétiques élevés, 2 °C est la température optimale de conservation. En outre, afin de bien valoriser les dattes communes et prolonger leur durée de vie, la durée de conservation peut être prolongée pour le cultivar 'Arichti', une optimisation de la température de conservation pour le cultivar 'Bser Hlou' et 'Bouhattam' sera cependant nécessaire. Les dattes précédemment citées ont été également conservées dans différents types d'emballages à atmosphère modifiée (EAM) à 2 °C pendant 3, 6 et 9 mois pour le cultivar 'Deglet Nour' et pendant 30 et 60 jours pour les cultivars 'Arichti', 'Bouhattam' and 'Bser Hlou'. D'une façon générale, ces résultats ont montré que les EAM ont le même impact que la température et la durée de conservation sur la qualité des dattes. Par conséquent, leur utilisation dans les industries de conditionnement de dattes va entrainer des coûts supplémentaires sans effets bénéfiques. L'impact d'un traitement d'hydratation sur les qualités organoleptique et nutritionnelle des dattes a également été évalué. Le traitement des dattes 'Deglet Nour' de trois usines de conditionnement différentes, à une vapeur d'eau saturée à 60-62 °C pendant 4 heures a montré qu'elles deviennent plus souples comme attendu, tandis que les paramètres nutritionnels sont resté stables. La spectroscopie Moyen Infrarouge (MIR) a permis de discriminer les dattes des trois usines et il est suggéré qu'elle soit adoptée par les stations de conditionnement comme une nouvelle technique prédictive et non destructive. Ce résultat confirme que le traitement d'hydratation pourrait être fortement recommandé pour valoriser les dattes sèches de faible valeur commerciale, cependant il doit être optimisé pour les dattes très sèches.
Fichier principal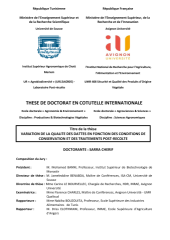 These_finale_Sarra_CHERIF.pdf (3.01 Mo)
Télécharger le fichier
Origin : Version validated by the jury (STAR)