How livestock farmers define robust dairy cows
Des vaches laitières robustes : qu'est-ce les éleveurs en disent ?
Animal robustness has been identified as an adaptive tool in the agroecological transition; it is the ability of an animal to maintain performance at expected levels in a fluctuating environment. The objective of this study was to analyse how dairy farmers characterise and assess the robustness of their animals. From interviews with 39 dairy farmers emerged 4 main definitions of robust daily cows: "adapted to the environment and environmental variability", "tough with a strong temperament.", "productive and economical", or "less productive but displaying endurance". These definitions differed based on i) the phenotypic traits of the animals upon which farmers based their descriptions (e.g., production, morphology, docility); ii) the time scale considered; and iii) the farmer's relationship with the environment (i.e., control vs. adaptation). This diversity of viewpoints should be accounted for in exchanges between farmers and agricultural advisors.
La robustesse des animaux est un levier d'adaptation identifié dans le contexte de la transition agroécologique, dans la mesure où elle caractérise leur aptitude à maintenir des performances d'intérêt, dans des environnements variables. Il s'agit ici d'analyser comment les éleveurs de vaches laitières caractérisent et évaluent la robustesse de leurs animaux. Des entretiens conduits auprès de 39 éleveurs laitiers ont permis de mettre en évidence 4 définitions possibles de la robustesse d'une vache : « qui s'adapte à son environnement et aux perturbations », « solide avec du tempérament », « économe et autonome », « moins productive, mais qui dure ». Ces définitions se distinguent sur la base i) des caractéristiques phénotypiques mobilisées pour décrire les animaux (niveau de production, morphologie, docilité…), ii) de l'échelle temporelle mobilisée et iii/ du rapport des éleveurs avec leur environnement de production : contrôle ou adaptation. L'existence de cette diversité de points de vue doit être prise en compte dans les échanges entre éleveurs et conseillers.
Fichier principal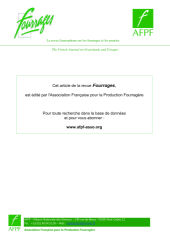 Binder-F235_Ollion.pdf (854.58 Ko)
Télécharger le fichier
Origin : Publisher files allowed on an open archive