Mixed crop - livestock farming systems: a sustainable way to produce beef? Commercial farms results, questions and perspectives
La polyculture-élevage bovin viande : un système durable de production de viande bovine ? Résultats à l'échelle de la ferme, questions et perspectives.
Mixed crop-livestock farming is cited in a broad consensus as an economic and environmental-friendly farming system. From a 66 Charolais suckler-cattle farms network, we sorted the specialized beef farms and mixed crop-livestock farms (conventional and organic). Our goal was to analyze the results: structure, technical, economical and environmental performances. The 21 conventional mixed croplivestock farms proved to be less efficient in the inputs use and, therefore, not more (or even less) efficient at the economic and environmental level. It seems that for these 21 suckler-cattle farms the concept of economies of scope was not valid. The 7 organic farms most efficiently exploited the diversity of herd feed resources, thus positioning organic agriculture as a prototype of mixed croplivestock system meeting the core principles of agroecology.
La polyculture-élevage est citée dans un large consensus comme étant un système de production vertueux tant au niveau environnemental qu'économique. Notre objectif est d'analyser les différences de structures, de résultats techniques, économiques et environnementaux entre les exploitations spécialisées élevage et les exploitations dites polyculture-élevage (agriculture conventionnelle et biologique) issues d'un réseau de 66 élevages bovins allaitants du bassin Charolais. Les 21 exploitations polyculture-élevage conventionnelles s'avèrent être moins efficientes quant à l'utilisation des intrants et, par ce fait, pas plus (voire même moins) performantes au niveau économique et environnemental. Aucune économie de gamme n'a pu être démontrée pour ces 21 exploitations. Les 7 exploitations en agriculture biologique exploitent de façon plus efficiente la diversité des ressources alimentaires pour les troupeaux (fourrages, céréales), les positionnant ainsi comme un prototype possible d'exploitation polyculture-élevage répondant au concept d'agro-écologie.
Fichier principal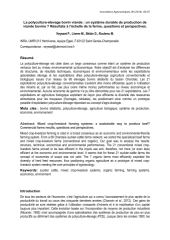 2014_Veysset_Innovations Agronomiques 39.pdf (899.92 Ko)
Télécharger le fichier
Origin : Publisher files allowed on an open archive