Shared Research Questions On Soil Quality In Organic Farming Systems
PREGUNTAS DE INVESTIGACIÓN COMPARTIDAS SOBRE LA CALIDAD DEL SUELO EN LOS SISTEMAS DE AGRICULTURAECOLÓGICA
Spécificité des besoins de recherche sur la qualité des sols en Agriculture Biologique. Bilan d'un séminaire transdisciplinaire INRA-ITAB
In November 2018, ITAB (Institute of Agriculture and Organic Food) and INRA (National Institute for Agronomic Research) organized a transdisciplinary seminar to bring together stakeholders to: i) share issues associated with soil management in Organic Farming (OF) systems, ii) collectively define the main research questions to be addressed; and iii) facilitate the construction of networks or projects. More than 150 participants attended the seminar, which was designed using the method of citizen facilitation of the community forum type (Town Hall Meeting) allowing all parties to express themselves and a live summary by experts. The seminar identified important knowledge gaps on soils in OF systems and research needs. The 20 questions resulting from these exchanges relate to: i) the overall functioning of soils, more particularly the major biogeochemical cycles Carbon, Nitrogen, Phosphorus (CNP) and biological interactions; ii) the long-term effects of agricultural practices more or less specific to OF systems; (iii) soil protection; and iv) soil diagnostic and management tools. Most of the issues identified are generic and require multidisciplinary research, especially when responding to systemic issues. The seminar identified needs in terms of device and research observatory that provide the references necessary to validate or adapt to OF systems the tools and methods of evaluation and soil management available for conventional systems. The main questions identified during the seminar are discussed and confronted with recent dynamics in terms of soil research and development.
En noviembre de 2018, el ITAB (Instituto de Agricultura y Alimentos Orgánicos) y el INRA (Instituto Nacional de Investigaciones Agronómicas) organizaron un seminario transdisciplinario para reunir a las partes interesadas para: i) compartir problemas asociados con el manejo del suelo en Agricultura Orgánica (AO) sistemas, ii) definir colectivamente las principales preguntas de investigación que se abordarán; y iii) facilitar la construcción de redes o proyectos. Más de 150 participantes asistieron al seminario, que fue diseñado utilizando el método de facilitación ciudadana del tipo foro comunitario (Town Hall Meeting) que permite que todas las partes se expresen y un resumen en vivo por parte de expertos. Los resultados confirmaron las importantes lagunas de conocimiento sobre los suelos en los sistemas de AO y las necesidades de investigación. Las 20 preguntas resultantes de estos intercambios se relacionan con: i) el funcionamiento general de los suelos, más particularmente los principales ciclos biogeoquímicos Carbono, Nitrógeno, Fósforo (CNP) e interacciones biológicas; ii) los efectos a largo plazo de las prácticas agrícolas más o menos específicas de los sistemas de AO; iii) protección del suelo; y iv) herramientas de diagnóstico y manejo de suelos. La mayoría de los problemas identificados son genéricos y requieren una investigación multidisciplinaria, especialmente cuando se trata de responder a problemas sistémicos. El seminario identificó necesidades en cuanto a dispositivo y observatorio de investigación para obtener las referencias necesarias para validar o adaptar, en sistemas de AO, las herramientas y métodos de evaluación y manejo de suelos disponibles para sistemas convencionales. Las principales cuestiones dentificadas durante el seminario son discutidas y confrontadas con la dinámica reciente en términos de investigación y desarrollo de suelos.
En novembre 2018, l'ITAB (Institut de l'agriculture et de l'alimentation biologiques) et l'INRA (Institut national de la recherche agronomique) ont organisé un séminaire transdisciplinaire pour : i) partager les enjeux associés à la gestion des sols dans les systèmes en Agriculture Biologique (AB), ii) définir collectivement les principales questions de recherche à traiter ; et iii) faciliter la construction de réseaux ou de projets. Plus de 150 participants ont assisté au séminaire qui a été conçu à partir de la méthode d'animation citoyenne de type forum communautaire (Town Hall Meeting), permettant à l'ensemble des parties de s'exprimer et à une synthèse en direct par des experts d'être réalisée. Les résultats identifient des manques importants de connaissances sur les sols dans les systèmes en AB et les besoins de recherche. Les 20 questions issues de ces échanges portent sur : i) le fonctionnement global des sols, plus particulièrement les grands cycles biogéochimiques Carbone, Azote, Phosphore (CNP), et les interactions biologiques ; ii) les effets à long terme des pratiques agricoles plus ou moins spécifiques aux systèmes en AB ; iii) la protection des sols ; et iv) les outils de diagnostic et de gestion des sols. La plupart des questions identifiées sont génériques et nécessitent des recherches multidisciplinaires, en particulier lorsqu'elles répondent à des enjeux systémiques. Le séminaire identifie des besoins en matière de dispositif et observatoire de recherche afin d'obtenir les références qui sont nécessaires pour valider ou adapter sur les systèmes en AB les outils et méthodes d'évaluation et de gestion des sols disponibles pour les systèmes agricoles conventionnels. Les principales questions identifiées lors du séminaire sont discutées et confrontées aux dynamiques récentes de la recherche et du développement sur les sols.
Fichier principal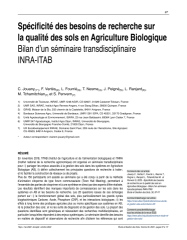 Jouany_Qual_Sol_EGS_2023.pdf (454.2 Ko)
Télécharger le fichier
Origin : Files produced by the author(s)
Licence : CC BY SA - Attribution - ShareAlike